There could be a situation as it happen quite often that default sendKeys option provided by Selenium Webdriver to send text does't work and even retrieving text doesn't work too in any of the browser. To handle such a situation, JavascriptExecutor comes to rescue. Therefore, In this article, we are going to learn "How to send and get text using JavascriptExecutor instead of using default ways provided by Selenium Webdriver?". It's a super handy solution and works quite every time.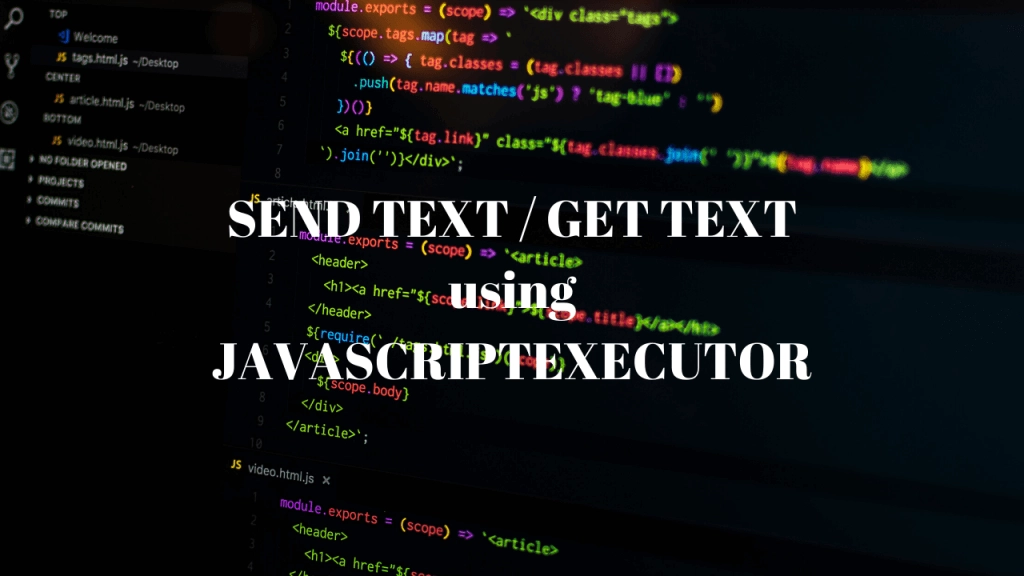 SEND TEXT AND GET TEXT USING JAVASCRIPTEXECUTOR...!!! Click To Tweet
Example 1. Send text with JavascriptExecutor (Not using Selenium's sendKeys option)
In this example, we are accessing a website (business.officedepot.com) and entering login name as 'Techndeck' using JavascriptExecutor
Send Text with JavascriptExecutor
1

2

3

4

5

6

7

8

9

10

11

12

13

14

15

16

17

18

19

20

21

22

23

24

25

26

27

28

29

30

31

32

33

34

35

36

37

38

39

40

41

42

43

import

org

.

openqa

.

selenium

.

JavascriptExecutor

;

import

org

.

openqa

.

selenium

.

WebDriver

;

import

org

.

openqa

.

selenium

.

chrome

.

ChromeDriver

;

import

org

.

testng

.

annotations

.

Test

;

import

io

.

github

.

bonigarcia

.

wdm

.

WebDriverManager

;

public

class

SendTextUsingJavascriptExecutor

{

public

void

javaScriptExecutor_SendText

(

)

throws

InterruptedException

{

//You can specify the hardcoded value of a chrome driver or driver based on your browser like below line

//System.setProperty("webdriver.chrome.driver", "/Users/d33p4k/driver/chromedriver");

//Use below line to manage driver by WebdriverManager for chrome browser in our case (you can use any other driver of your choice)

WebDriverManager

.

chromedriver

(

)

.

setup

(

)

;

driver

=

new

ChromeDriver

(

)

;

//Access OfficeDepot Business website

driver

.

get

(

"https://business.officedepot.com"

)

;

driver

.

manage

(

)

.

window

(

)

.

maximize

(

)

;

//Create JavascriptExecutor object

JavascriptExecutor

js

=

(

JavascriptExecutor

)

driver

;

//Enter Techndeck in the loginName field on the Office Depot Business website homepage using Javascipt Executor

js

.

executeScript

(

"document.getElementById('loginNameBsd').value='Techndeck';"

)

;
Output: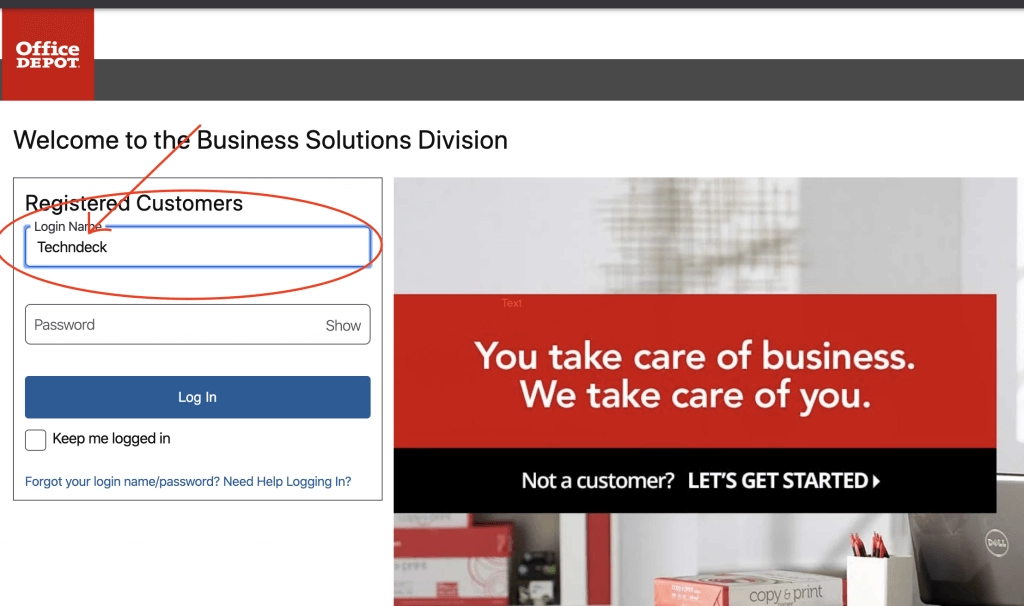 Example 2. Get/Retrieve text with JavascriptExecutor
In this example, we are accessing a website (business.officedepot.com) and trying to retrieve the text written on the login button using JavascriptExecutor
Get Text using JavascriptExecutor
1

2

3

4

5

6

7

8

9

10

11

12

13

14

15

16

17

18

19

20

21

22

23

24

25

26

27

28

29

30

31

32

33

34

35

36

37

38

39

40

41

42

43

44

import

org

.

openqa

.

selenium

.

JavascriptExecutor

;

import

org

.

openqa

.

selenium

.

WebDriver

;

import

org

.

openqa

.

selenium

.

chrome

.

ChromeDriver

;

import

org

.

testng

.

annotations

.

Test

;

import

io

.

github

.

bonigarcia

.

wdm

.

WebDriverManager

;

public

class

GetTextUsingJavascriptExecutor

{

public

void

javaScriptExecutor_GetText

(

)

throws

InterruptedException

{

//You can specify the hardcoded value of a chrome driver or driver based on your browser like below line

//System.setProperty("webdriver.chrome.driver", "/Users/d33p4k/driver/chromedriver");

//Use below line to manage driver by WebdriverManager for chrome browser in our case (you can use any other driver of your choice)

WebDriverManager

.

chromedriver

(

)

.

setup

(

)

;

driver

=

new

ChromeDriver

(

)

;

//Access OfficeDepot Business website

driver

.

get

(

"https://business.officedepot.com"

)

;

driver

.

manage

(

)

.

window

(

)

.

maximize

(

)

;

//Create JavascriptExecutor object

JavascriptExecutor

js

=

(

JavascriptExecutor

)

driver

;

//Enter Techndeck in the loginName field on the Office Depot Business website homepage using Javascipt Executor

String

text

=

js

.

executeScript

(

"return document.getElementById('loginSubmit').value"

)

.

toString

(

)

;

System

.

out

.

println

(

"Text written on the login button is- "

+

text

)

;
Output:
[

RemoteTestNG

]

detected

TestNG

version

7.0.0

Starting

ChromeDriver

80.0.3987.106

(

f68069574609230cf9b635cd784cfb1bf81bb53a

-

refs

/

branch

-

heads

/

3987

@

{

#

882

}

)

on

port

44696

Only

local

connections

are

allowed

.

Please

protect

ports

used

by

ChromeDriver

and

related

test

frameworks

to

prevent

access

by

malicious

code

.

Apr

11

,

2020

9

:

13

:

26

PM

org

.

openqa

.

selenium

.

remote

.

ProtocolHandshake

createSession

INFO

:

Detected

dialect

:

W3C

Text

written

on

the

login

button

is

-

Log

In

PASSED

:

javaScriptExecutor_SendText

===============================================

Tests

run

:

1

,

Failures

:

0

,

Skips

:

0

===============================================
SEND TEXT AND GET TEXT USING JAVASCRIPTEXECUTOR...!!! Click To Tweet
Do you like this Post? – then check my other helpful posts:
Other Useful References:
Deepak Verma is a Test Automation Consultant and Software development Engineer for more than 10 years. His mission is to help you become an In-demand full stack automation tester.
He is also the founder of Techndeck, a blog and online coaching platform dedicated to helping you succeed with all the automation basics to advanced testing automation tricks.